Is it possible to recover deleted massagings or call history from a LG G5? If you are trying to figure out a way to get back lost files on LG G5, you may have interest in this post. It displays how to restore massagings from LG G5 via using a professional Androdi data recovery app.
Being the hottest smartphone of the year, LG G5 improves user experience, appearance and features. It is one of the most popular phones all over the world. This new release has extended the tray to include a microSD slot, which might be one of the most exciting changes for LG G-series users. It's able to provide larger storage space, which means users can store more data to their phone. As more and more files will be stored to cellphone, file loss and data recovery problem raises. This post will introduce how to recover data from LG G5 with easy steps.
LG G5 data loss scenarios
Memory card is corrupted and becomes unreadable, and the card stores most of your important data.
You deleted files accidentally and want to recover photos, pictures, etc. from the LG G5.
Accidentally formatted memory card and files are erased.
Restore cellphone to factory setting by mistake and everything on the phone is erased.
Tips for successful data recovery from LG G5
What would you do if these happen to you? Give up your precious data or look for a solution to get back lost data from LG G5? Here are some tips you should keep in mind and they will help you regain lost data.
First and foremost, if lost files are very important such as family photos were deleted, do not give up. Data recovery from Android phone is possible and most files can be recovered as long as they are not overwritten
Try the recovery from either memory card or internal memory space as soon as you can with Android data recovery software. The longer you wait; the few chances will be left. Because lost files are more likely to be overwritten or damaged if you continue to use the phone to install apps, take new photos, etc.
Choose a reliable LG G5 data recovery program to do the recovery task for you. Make sure the tool you choose recovers data in a read-only manner.
Make sure the Android device can be recognized by computer after it is connected via USB cable. The remaining capacity of battery on our LG G5 should be no less than 20%.
Your Android device should be rooted properly before recovery, as Android OS doesn't allow recovery tool to scan if you do not get the root permissions.
Free download and try this best data recovery software for Android
Recover data from LG G5 with Eassos Android Data Recovery software
As a matter of fact, Android data recovery is quite easy and there is recovery software available now. We recommend you Android Data Recovery software which is capable of recovering photos, music, document, video, messages, etc. from Android device. It's safe to work with it as the recovery process is read-only and simple. Let's see the step-by-step guide:
Step 1: Connect cellphone to computer and launch Android Data Recovery Software.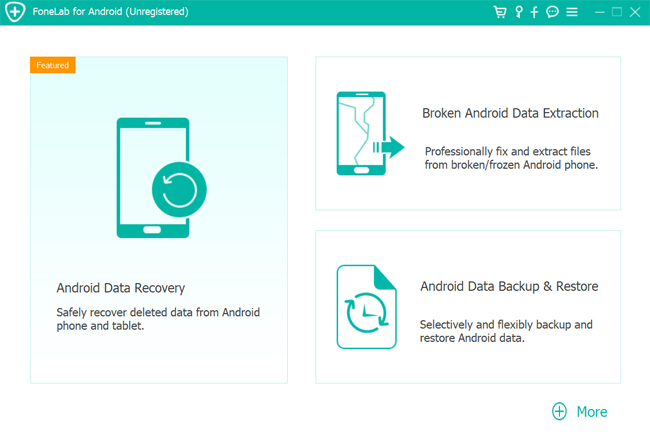 Step 2: Select storage device (internal memory or SD card) which stored lost data and click "Next". Then the software starts creating image for the select device, after which it starts search for lost data from the image file.
Step 3: Preview and recover files. Double-click files to preview and check whether it is the one you want to recover and whether it is recoverable. Select those files you need and click "Start" button.
Note:
Do not save recovered data directory to the same device before all files are recovered in case of overwriting files. Remember to backup important data and keep backup copy on different storage devices in the future.
Tips:
Import and edit Samsung NX500 H.265/HEVC video in Sony Vegas Pro 15
Lumix GH5s FCP X – Convert Lumix GH5s H.265/HEVC to FCP X ProRes
Galaxy S9 iTunes – Transfer M4V movies from iTunes to Galaxy S9
Asus ZenFone 5 iTunes – Play iTunes M4V movies on ZenFone 5
iTunes to HTC U11 – Convert transfer iTunes movies to HTC U11 for playing
How to watch Blu-ray moveis on Acer Switch 5?
Transfer Blu-ray movies to Lenovo Miix 510 for watching
Commpress/copy Blu-ray to Asus ZenPad Z8 on Windows 10